Would you like to rent machines for earth moving and you don't know exactly which machine you need? Then Tuytel is the right place for you. Earthmoving machines are the ideal machines for construction and earthworks. With us you can rent various earthmoving machines, suitable for your construction project. We gladly give you advice and rent the best quality earthmoving machines.
Types of earthmoving machines
There are different kinds of machines that help you move the ground. First of all you have the stoneslingers. The stoneslinger machines can bridge 30 meters to move material. Stoneslingers ensure that the materials are immediately in the right place. You can also hire mobile cranes from us. These diggers are mobile and extremely fast. The weight of these cranes is between 9 and 18 tons. In addition to mobile excavators, we also hire out mini excavators. These are compact excavators, but make no mistake, they have great potential. Because of their small size and turning circle, mini excavators can be used in many places. Crawler cranes and caterpillar dumpers are earthmoving machines with great stability. A crawler crane stays above where tyres would normally dig. Besides cranes and excavators, we also rent out a number of tractors with various trailers, such as a tractor with a push-off trailer, water truck or tipper truck. Finally, we rent out a number of shovels with various attachments.
Renting earthmoving machines
Tuytel is an international rental and trading company with a wide range of heavy construction equipment, including earthmoving machines. You can count on A-quality machines, expert advice and excellent service & maintenance. We are happy to help you with our earthmoving machines and give you advice to make sure your construction project runs as smoothly as possible.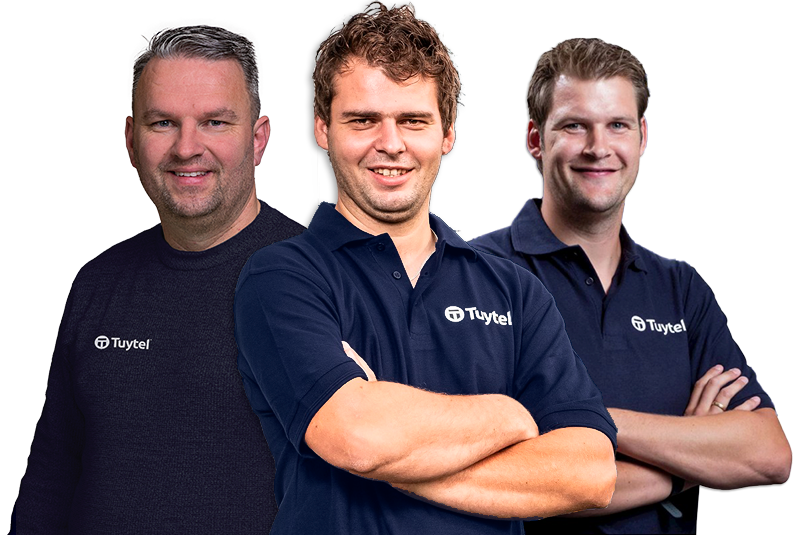 We are happy to advise you!
Do not hesitate to call our experts: 0184 694 947