Would you like to rent machines for sweeping and vacuuming and you don't know exactly which machine you need? Then Tuytel is the right place for you. Sweepers and vacuums are the ideal machines for sweeping and cleaning sites. With us you can rent several sweepers and vacuums, suitable for your construction project. We will be happy to advise you and rent the best quality sweeping and vacuuming machines.
Types of machines for sweeping and suction excavating
There are a large number of machines that help you vacuum out sand, soil and gravel near cables, pipes and tree roots. These machines are called soil vacuums and are ideal for work in the city or along railways. There are many pipes and cables hidden here that must not be touched. Because the soil is sucked up, nothing will be damaged. We, at Tuytel, rent out several soil vacuums for your project! The soil vacuums have a certain capacity which can be sucked up. It all depends on how much you want to suck up.
Suction vehicles can be used when there is limited digging space, such as in crawlspaces or when constructing a new tunnel. The machine's suction hose takes up a lot less space than even the smallest mini excavator. In addition, the hose can be extended with extra hoses, so that the suction vehicle does not have to stand directly in the digging area and the machine can also work at heights.
In addition to suction dredgers, we also rent out sweeping machines for cleaning terrain. Sweepers consist of rotating brushes, a hoover that sucks up the dirt and a humidifier. Do you need to clean a large area? Then renting a sweeper truck is the ideal solution.
Renting sweepers and suction excavating
Would you like to hire a sweeper or vacuum cleaner for your project? Then you have come to the right place. Through our application form you can easily rent a machine. Powerful vacuum sweepers, zoab cleaners, sweepers and motor broomsTuytel is an international rental and trade company with a wide range of heavy construction equipment, including sweepers and vacuums. You can count on A-quality machines, expert advice and excellent service & maintenance. We are happy to help you with our machines and give you advice to ensure that your construction project runs as smoothly as possible.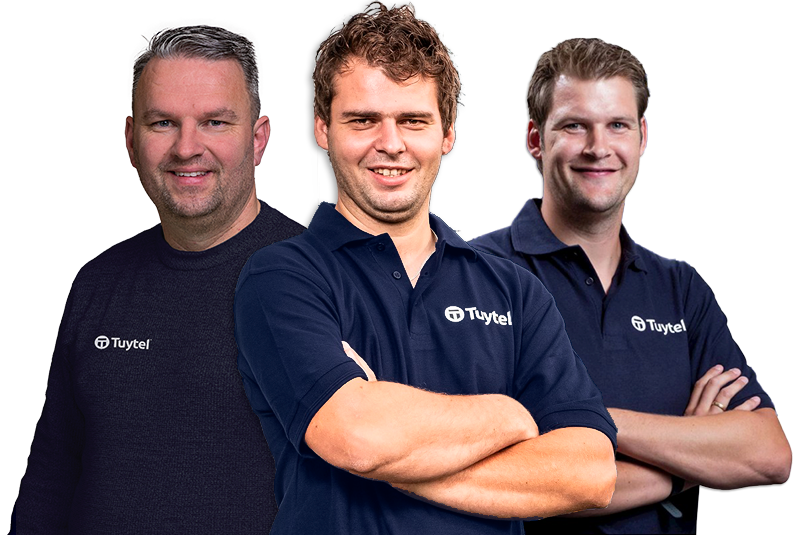 We are happy to advise you!
Do not hesitate to call our experts: 0184 694 947