Deployment of sweepers and vacuum sweepers
Are you looking for a sweeper for maintenance and cleaning? Or a vacuum sweeper for a specific job? We offer several machines for rent. Our equipment is solid, powerful and manoeuvrable.
A suction excavator for every specialised job
In our fleet you will find a wide range of vacuum trucks from brands such as Rivard. The relatively small suction excavator has a pressurised cabin and a large filter package. The truck is suitable for suction of polluting materials such as asbestos. Thanks to the 4x4 drive, the vehicle is also suitable for unpaved terrain.
Are you working on larger projects? Then choose a vacuum with multiple turbines. These provide a lot of suction power for vacuuming up heavier materials over long lengths.
The container capacity of our suction excavators varies from 4 to 12 cubic metres. The vehicles have a suction range of up to 200 metres. The larger suction vehicles can be used for several applications: sewer problems, basement construction, creating tunnels, cleaning crawlspaces, emptying pipes and silos and cleaning concrete slabs. They are also suitable for vacuuming roofs, tree roots, the heads of piles and train and tram rails.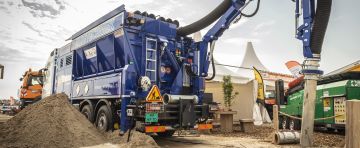 Advice
We want you to hire the right equipment from us. Call us for free advice: 0184 694 947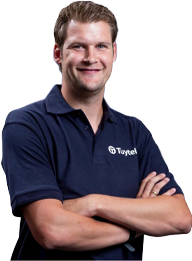 Sweepers for thorough cleaning
Do you temporarily need extra sweeping capacity, for example due to an event? We rent powerful Johnston sweeping trucks. Our sweeping trucks are very manoeuvrable and therefore well suited to smaller locations. The three brushes ensure thorough cleaning of all corners and gutters.
Service and maintenance
You can count on our excellent service. We deliver the sweeper or vacuum cleaner fully fuelled and clean. You can hire a machine with or without an operator. All our operators are in the possession of VCA. The maintenance service is always ready if needed.
Periodic maintenance
VCA certified
Reliable European A-brands
The latest equipment
Hire a suction excavator or sweeper at Tuytel
Are you looking for reliable machines, honest advice and excellent service and maintenance? Rent the suction excavators and sweepers at Tuytel. Our machines are available for long and short periods of time.

Easily rent
the right machines
Over 20 years of product knowledge

Benefit from our knowledge and experience in the rental of heavy construction equipment.

Rely on our A-brand machines, which we keep in top condition with our in-house workshop.

Excellent service and support, also for the operators.

We like open and honest communication. And of switching quickly.