Mobile excavator hire
Are you working on a new construction project and in need of a mobile excavator? At Tuytel we rent out several mobile excavators that can be very useful for these jobs. The mobile excavators/excavators can help with many jobs, they are very versatile. Think of digging trenches and pits, but also levelling terrain and loading trucks. In short, a machine with many functions. You can easily rent a mobile excavator from us via the website.
Why rent a mobile excavator?
You can rent mobile machines through Tuytel in different grades. This is in terms of strength and size. When you have smaller jobs to do, a mini digger is more suitable. These diggers have less strength but can easily be manoeuvred into any spot. Mini diggers are ideal for creating sandboxes, digging holes or planting trees. Do you need to do bigger jobs? Then it is smart to hire a mobile excavator. These excavators have a lot of power, a wider base for stability and of course a longer range.
The right excavator for your project
When you rent a excavator at Tuytel you can do so for the long and the short term. We have several mobile excavators with experienced drivers. We also have excavators that are very suitable for lifting, like the Hyundai 180. For work in the vicinity of Oud-Alblas we can drive the excavator to the location, for larger distances we have special transport to deliver the excavator at your location. If desired you can also pick up the excavator at our location. Please contact our team!
Rent a mobile excavator
Would you like to rent a mobile excavator? Then you've come to the right place. Through our application form you can easily rent a machine. Please note: all our mobile excavators are rented including driver.
Tuytel is an international rental and trading company with a wide range of heavy construction equipment, including mobile excavators. You can count on A-quality machines, expert advice and excellent service and maintenance. We are happy to help you with our mobile excavators and give you advice to ensure that your construction project proceeds as smoothly as possible.
Are you looking for a excavator to carry out excavations on very uneven surfaces? Then check out our range of mini excavators and crawler excavators.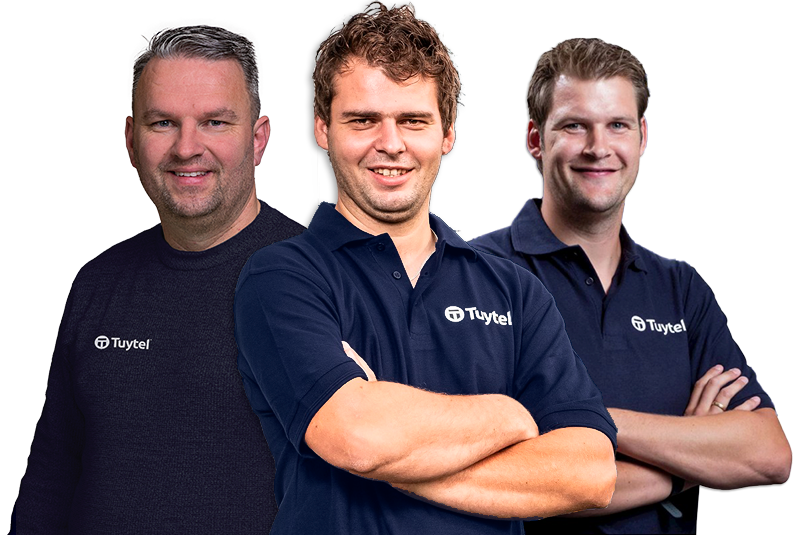 We are happy to advise you!
Do not hesitate to call our experts: 0184 694 947