Are you looking for a low loader for your job? In our fleet, we offer several modern low loaders, semi-low loaders and flat trailers. A low loader is a trailer with a the loading floor very close to the ground, which allows you to transport higher loads. We offer low loaders in several shapes and sizes. Any questions about renting a low loader or which kind? No problem! Feel free to contact us about the low loaders, we will be happy to advise you and together we will decide on the best option for you.
Why rent a low loader
If you need to transport large and heavy machinery, renting a low loader is the ideal solution. A low loader allows you to transport these large machines from A to B without any problems. A low loader is also perfect for transporting tall indivisible objects. Thanks to the lowered semi-trailer, higher loads can be carried easily. Compared to a normal semi-trailer, the low loader often complies with traffic regulations and avoids problems when passing through tunnels and bridges. With our low-bed trailers, you can therefore transport materials that do not conform to standard dimensions. Our low loaders meet higher safety requirements than those imposed by law. As Tuytel, we therefore guarantee the safety of our machines and driver.
Low loader rental
Tuytel is an international rental and trading company with a wide range of heavy construction equipment, including these low loaders. You can count on A-quality machines, expert advice and excellent service & maintenance. We are happy to help you with our low loaders and give you advice to ensure your construction project runs as smoothly as possible.
Tuytel is based in Oud-Alblas, which makes it an ideal location for low loader hire in South Holland and the surrounding area. In consultation with the client, we provide transport for machines and other equipment, whether it is to Groningen or a transport in the region.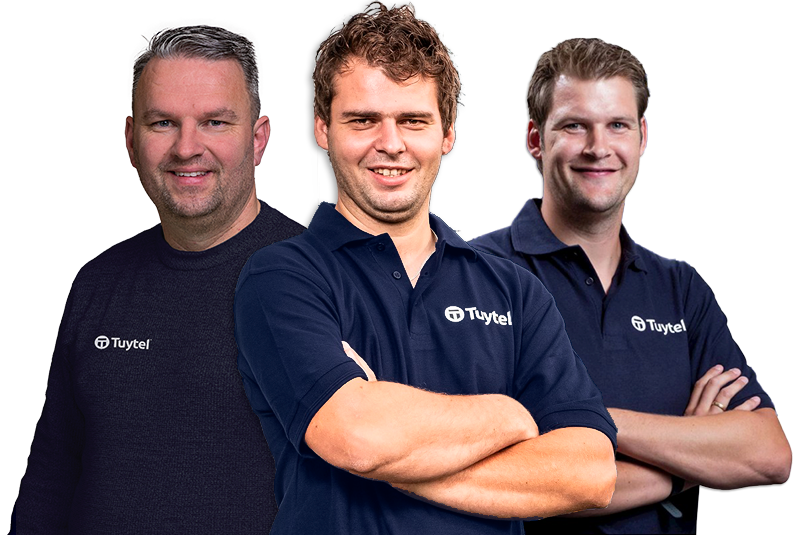 We are happy to advise you!
Do not hesitate to call our experts: 0184 694 947