Wheel loaders
The wheel loader is a machine used in construction, road building and garden landscaping to move earth or sand. This can be done by a wheel loader or pushing. The wheel loader's container can be raised in order to move rubble while driving, without it falling off. The wheel loader can also be used in demolition work to remove rubble. Would you like to rent a wheel loader for your work? Then Tuytel is the right place for you. You can easily rent a wheel loader via our website. Are you not sure which wheel loader is ideal for you? Read on below for more information.
Different types for rent
We, at Tuytel, rent out a number of wheel loaders. These wheel loaders all have their own specifications. The lightest and at the same time smallest wheel loader weighs 2,5 ton and has a width of 1,07 meter. The heaviest wheel loader weighs 15.1 tons. The larger the wheel loader, the more soil you can move. Besides wheel loaders, we also rent out telescopic handlers. The advantage of a wheel loader over a telescopic handler is that the cabin is in the middle and the bucket can be moved sideways thanks to the articulated steering. But a telescopic handler also has a number of interesting advantages. Atelescopic handler lifts higher and is more stable.
Renting a wheel loader
Would you like to rent a wheel loader or telescopic handler? Then you have come to the right place. Through our application form you can easily rent a machine. Tuytel is an international rental and trading company with a wide range of heavy construction equipment, including wheel loaders. You can count on A-quality machines, expert advice and excellent service and maintenance. We gladly help you with our wheel loaders and give you advice to make sure your construction project runs as smoothly as possible.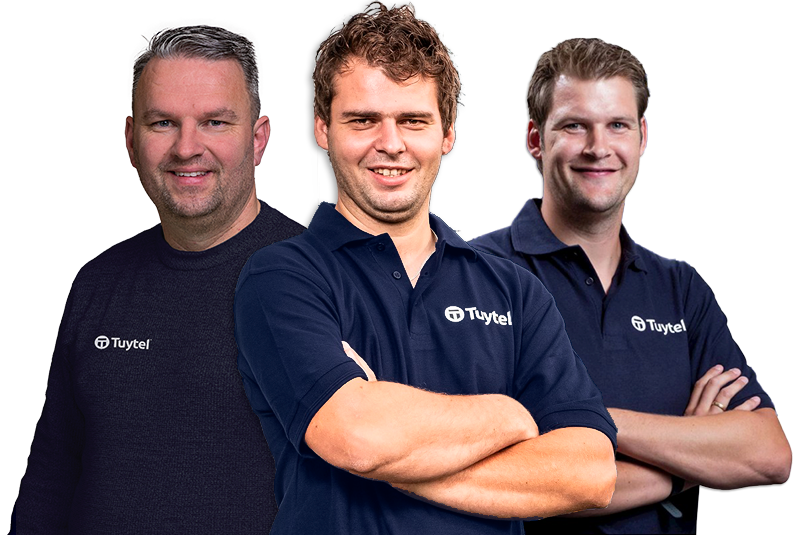 We are happy to advise you!
Do not hesitate to call our experts: 0184 694 947